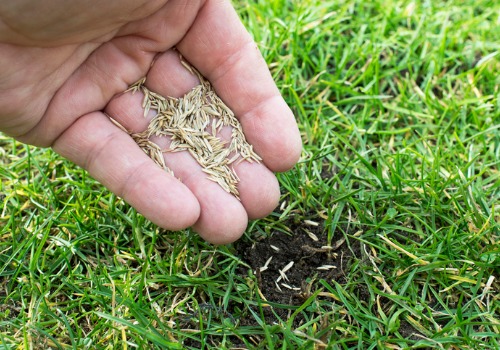 Your #1 Source for Landscape Supply in Peoria IL
We cater to landscapers, contractors, golf courses, municipalities and homeowners, providing them with the landscape supply in Peoria IL they need to thrive. Here at Kelly Seed & Hardware Co., we offer advice about how to grow and maintain your lawn, guiding you through the process about how to establish a lush landscape. Whether you're a landscaper seeding a lawn for sun or shade, or a golf course in need of lush greens, we have what you need.
We are Kelly Seed & Hardware Co., and we invite you to check out our online seed catalog and landscape supply items for more inspiration. You can choose us for our landscape supply in Peoria IL with confidence, as our family-owned company was established in 1905. Serving the needs of residential customers, landscapers and municipalities with all the landscape supplies they need to beautify their properties, we are happy to be your turf and fertilizer experts.
As such, we offer a complete line of alfalfas, clovers, pasture mixtures, waterway mixes, lawn mixes, and garden seeds. We take care of the Central Illinois farmer and homeowner!
Landscape Supply Items
How can you make your lawn and garden thrive this year? Well, you need the best products, such as fertilizer, to start with. Take a look at our offerings:
Bulk Garden Seed
Turfgrass Mixtures
Premium Alfalfa Seed
Clovers
Pasture Mix
Cover Crops
Wildlife Habitat Mix
Wildlife Treats
Oat Varieties
Fertilizers
Amish Made Cultivators
Garden Seeders
Stoneware Crocks
Home Gardening Supplies
Why Kelly Seed Landscape Supplies?
You may be wondering: why not just go to the big box stores for my landscape supplies? Well, for one, you won't get the personalized attention you deserve. For another, you won't get the quality. Here at Kelly Seed, we know quality! Here's what you get with us:
Fair prices
Personalized attention
Wide variety of products
Family-owned company
Decades of experience
Attention to detail
Whether you need landscape supplies, fertilizer, seed, garden gifts, tools, hardware or even just some advice, don't hesitate to drop in and speak with us. Our third-generation, family-owned company prides itself on being the "go-to" business for anyone from the farmer, hunter, gardener, landscaper, bird enthusiast, or just the average homeowner. Backed by 235 years' experience, our quality products are priced fairly, and we offer personalized service and advice to our valued customers.
Contact Us For Our Landscape Supply in Peoria IL
Need a trusted landscape supply in Peoria IL? Give us a try at Kelly Seed and Hardware Co., located at 202 Hamilton Blvd in Peoria. Give us a call at 309-674-0368.